Kitchen, Bath and Ventilation Products
Shipping & Returns
SHIPPING POLICY
We are currently offering Free Shipping for orders over $129.00. This offer is subject to change. All quoted shipping prices are for the 48 Contiguous States in the USA. Items shipped outside the 48 contiguous U.S. states will be charged additional freight. (Alaska & Hawaii)
At this time we do NOT ship outside the United States. For our Canadian customers, if you have a US bank issued credit card and a United States shipping address we'd be happy to process your order. All prices are in US dollars (USD). Our online store is not set up to accept non-USA shipping addresses. Your "bill to" address should be your actual address where your credit card statement is mailed (use this for signing up for an account with us) and your "ship to" address should be your USA shipment address. If you need assistance, Please call us at 602-841-9283 if you have a location in the USA that we can ship to, who will reship a package to you.
SHIPPING INFO
We ship in-stock items from our warehouse in Phoenix, Arizona - Zip Code 85040 - via FedEx Ground. If you need expedited shipping please call 602-841-9283. In-stock items include ventilation fans by Panasonic and Fantech, plus Waste King garbage disposals.
Please note:
For FedEx Ground, a business day does not include Saturdays, Sundays or holidays. Example: We ship a package on Monday that takes 2 business days to arrive. We do not count the day you ship as a business day, so your package would arrive on Wednesday, the second business day after the ship date.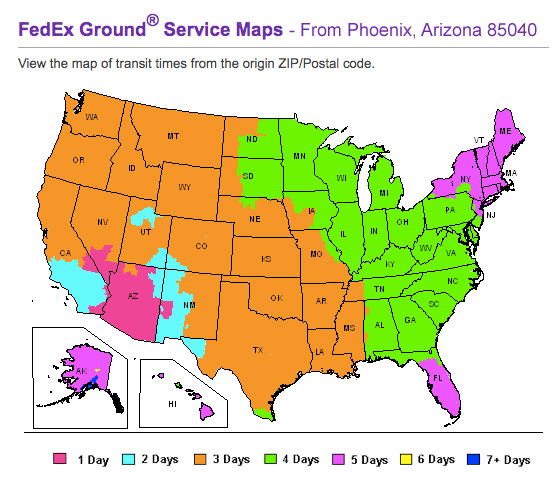 RETURNS POLICY
We want you to be completely satisfied with your purchase. If you find that you need to return an item, please review the complete details of our return policy below to determine if any special return conditions apply.
All returns are subject to a 25% restocking fee and will be deducted from your refund.
Most of our products are offered with free shipping, so please be aware that if you return one of these products our actual outbound shipping costs will be deducted from your return refund.
Items may be returned within 30 days of the ship date for a refund.
We will not accept returns without a return authorization (RA) number.
Product must be returned in it's original packaging in resalable condition.
While most items are returnable, they are subject to the following guidelines:
All returned products must be in original condition and packaging; otherwise, additional charges may be applied. Unfortunately, we cannot take returns of products that have been assembled, installed or modified. Additionally, certain products cannot be returned because neither we nor our suppliers can take them back. This will be clearly marked on the product's sale page. If you have any questions about whether a product can be returned, please call us.
Defective, Damaged or Mis-shipped Items
You will receive a refund for the item(s) and shipping and handling costs for defective, damaged or mis-shipped items. For all other items, shipping and handling costs cannot be refunded. (Note: Return shipping cost refunds are calculated using the lowest cost shipping method. Items returned via expedited shipping methods will only be refunded an amount equal to the lowest cost shipping method). Wave Plumbing does not assume responsibility for any peripheral costs that you may incur because of a damaged or defective item.
If you decide you do not want parts or a replacement unit, the item can be returned under our standard return policy. If a product arrives damaged, or we made an error, and it cannot be remedied with either a full replacement or replacement parts, we will pay to return the item to us. If your item is problematic due to a manufacturer's defect, we can either replace the defective part, or if necessary, the entire unit. We stand behind our products and maintain great relationships with the manufacturers who produce them. If you are having an issue, please contact us and we will make every effort to resolve it.
Packages Damaged during Shipment
Even if the package appears only slightly damaged, write "Package Damaged" when you sign for delivery. This is VERY important. If the package looks significantly damaged, you may refuse delivery of the package. The damaged package will be returned to us and we will send you a new one. If you refuse delivery, please notify us so that we can expect the return shipment.
If you have already accepted the package and find that parts are missing or damaged, please contact us right away and we will ship you the replacement parts free of charge. Speed matters since most carriers only let us file freight claims within 48 hours of delivery. If we cannot replace the parts, we will have the carrier pick up the package and we will send you a replacement. All returned products should be in the original packaging.
Proper Conditions for Return and Credit
Returned merchandise must be in new condition with its original packing and accessories intact or it may be subject to a restocking fee. Our manufacturers charge us a restocking fee. Please inspect the item carefully PRIOR TO SIGNING FOR IT. If the item is incorrect or damaged refuse the delivery and you will receive a full refund. Once the item has been accepted it will be assumed to be correct and in good working condition. Any issues that arise after the item is signed for must be resolved through the manufacturers warranty. Credits are processed upon confirmation of the return by our suppliers. Please allow up to two billing cycles for the return credit to appear on your credit card statement. If credit cannot be issued to your credit card, a store credit will be issued.
Order Cancellations
If for any reason you wish to change or cancel your order, please notify us as soon as possible at 602-841-9283. We are happy to accommodate requests for changes or cancellations as long as we receive them before the end of the business day of your order, or before order has been sent out for delivery.
Orders canceled before the end of the day of order (we have to confirm this cancellation and process it) will not incur a cancellation fee.
Any cancellation made after the business day of order will incur a cancellation fee of 3%.
Special Order items are not returnable.
If you want to cancel the order after it has been sent out for delivery, it is treated as a return and will incur a 25% restocking fee, plus fees for the cost of freight both ways
FedEx charges us a $15.00 package refusal fee, so if you refuse a package this fee may be incurred.