Waste King Commercial Garbage Disposals #1 Rated Brand!
With a range of powerful disposals from 1 to 5 horsepower, Waste King Commercial garbage disposals will be at home in any size restaurant, cafeteria, commercial kitchen, hotel, hospital foodservice operation or factory.
Waste King Exclusives
Stainless Steel Swivel Impellers swivel and retract if they are jammed so that they return to the grinding position during revolution, reducing motor overloading and costly jams. Waste King's stainless steel swivel impellers eliminate the need for reversing switches and special "de-jamming" wrenches.


Stainless Steel Undercutter Blade located beneath the grind ring snips fibrous and stringy waste into small particles making them less likely to clog drain lines.


Hush-Cushions® isolate the unit from metal to metal contact, significantly reducing noise level. Hush-Cushions® are specially compounded and designed to withstand vibration and tension, and have a built-in safety splash guard.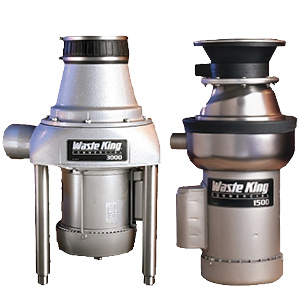 View Waste King Commercial Disposal Accessories.
Looking for Waste King Residential garbage disposals? We've got you covered! See Waste King EZ Mount and Waste King 3-Bolt models.