Linkasink Kitchen Sinks
Call our experts for Lowest Price and Free Shipping on Linkasink products: 602-841-9283.
LINKASINK COPPER KITCHEN SINKS - Linkasink's distinctive copper kitchen, bar and bath sinks are handmade with the highest quality materials and have a living finish that will patina over time. These versatile sinks are perfect for use in kitchens, bathrooms, bars, and outdoor living spaces and are available in many finishes including weathered copper, satin nickel and polished nickel.
LINKASINK MOSAIC TILE KITCHEN SINKS - Linkasink has gained notoriety for its hand-laid mosaic sink basins. The mosaic tiles used by Linkasink include Venetian glass, tumbled stone, mother of pearl, and stainless steel. Linkasink is also happy to accommodate custom orders and use tiles supplied by customers to complete the mosaic pattern. Linkasink offers over 20 varieties and colors of tiles and you can choose from 9 mosaic patterns.
LINKASINK HAMMERED STAINLESS STEEL SINKS - Linkasink's unique new Hammered Stainless steel sinks are all the rage. The most durable sink material with an artisan look gives you the best of both worlds.
LINKASINK FARMHOUSE SINKS - Apron front Farmhouse sinks come in several copper and satin nickel finishes.
New Products For March - Linkasink Kitchen Sinks
Featured Products - Linkasink Kitchen Sinks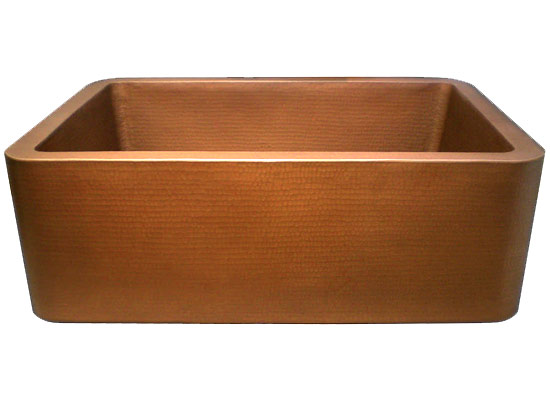 Linkasink Kitchen Farmhouse Sinks - C020 Apron Front Kitchen Copper Sink
$3,450.00
Sale: $2,760.00
Save: $690.00 off
Monthly Specials For March - Linkasink Kitchen Sinks